I am pretty excited to share a new book with you!
Jesus and the Beanstalk : Overcoming Your Giants and Living a Fruitful Life
The book is set up with six daily readings per week, with the sixth day being a Prayer, Reflection & Process Day.  There are multiple chapters with different topics to dig into.  After each reading there are questions that would be perfect for journalling through "Small Steps Towards Slaying Dragons."
Each chapter is a short read – but it delves into the subject of giants in our lives and how to live out our faith!  I have thoroughly enjoyed reading through this book.  Such a great reminder of our victory through Jesus.
As a homeschool family, we have chosen to make Fairy Tales a part of our regular reading.   When we started this journey, our curriculum listed books that included fairytales and other myth style stories.  At first, these stories just seemed like fun stories, but now, I realize that they allowed my children to have their imagination grow and blossom.  Not only do fairytales paint a picture that allows imagination to grow, but these tales of good overcoming evil reminds us that we are destined for a better place.  These fairy tales connect us to a desire for good to prevail.
The story of Jack and the Beanstalk remind us that the little guy can win – but only by trusting.  We are called to trust in our faith – in the God who gives us that faith – and by doing that we can defeat the giants in our lives.
I have enjoyed reading the devotions in this book.  Each daily devotion has taken me into a deeper examination of my faith and what exactly the giants in my life are.  I recommend this book for anyone who is wanting to really strengthen their faith, anyone who wants to really look at conquering the giants in their own lives.
NOTE : I received a copy of Jesus and the Beanstalk in exchange for an honest review.
---
More about the book:
What if a fairy tale and ten Bible verses could free you to live 
an effective, fruitful life in Christ?
We live in a world populated with giants. Giant obstacles to sharing faith. Giant barriers to godly lives. Giant strongholds of sin. We come from a long line of giant-killers so, why aren't we dodging more fallen giants? Jack and the Beanstalk could hold part of the key.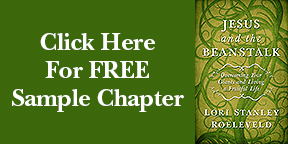 Jesus and the Beanstalk explores 2nd Peter 1:1-10 using fairy tale, humor, and modern culture to show today's believers how to unleash that promise of an effective, fruitful life. Designed for both individuals, discipleship, small groups, or ministry retreats, readers will find this fresh take on spiritual growth engaging and motivating.
Are you ready to topple the giants in your life?
---
More about Lori Stanley Roeleveld
Like you, I don't want to remain stuck in the small story of my small mind, my stunted soul, my lesser life. I want to follow Jesus into His great story; my mind transformed, my soul expanded, my life lived to the full.  
Like you, I love the Lord of the Rings. Why? Because I believe Frodo's story is my story. Your story. The story of everyone who knows there is a greater adventure out there, and keeping their heads buried in the Shire is no longer an option.
Of course we love comfort, of course we want to keep to ourselves and enjoy the safety of home but we live in times that call for believers to be brave, to take action, and to set comfort aside out of love for Jesus and for those Jesus loves.
Want More?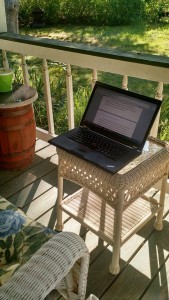 Why I write: I want to inspire the wounded believer to join the ancient adventure, to encourage the faithful not to lose heart, and to engage the skeptic in a dialog about the perfect God who loves an imperfect church.
I write essays about faith designed to unsettle the hobbit in all of us and inspire us to forget second breakfast long enough to join the adventure.
Writing is the best way to say everything I have to say without being interrupted.
My favorite things: 
Studying God's Word and communicating what I learn. Prayer. Family. All the epic movies ever made and most of the quirky little flicks, too. Star Trek, The West Wing, 60 Minutes. Ballykissangel. Downton Abbey, King Arthur, swords and all things medieval. Eating out, my front porch, pizza, sushi, late night chats, everything Klingon, and the color green.
One Thing You'd Never Guess About Me:  I'm a black belt in karate. 
Five things no one has ever said to me:
Lori, don't you have anything to share?
Wouldn't you like to expand on that idea?
Are you sure you're getting enough to eat?
Sit down, Lori. All your energy makes me tired!
Maybe if you stopped socializing and studied more you'd do better.